B-Ball On The Potomac – It MUST Be In the Water!!
By Brian S. Yeldell
Even though the college basketball season is over and the NBA season is winding down, basketball is still in the air, either through recruiting, All-Star games or great summer leagues around the country. We basketball junkies are always ready for another season. Some of the usual cast of characters continue to maintain their place atop their respective places in the basketball world – high school, college, the pros, and even "little league" or AAU hoops (shout to my man, Curtis Malone for KEEPING a great team "DC Assault", which has turned into a great program). When talking about the usual cast of characters, we mean high schools like DeMatha, Mater Dei in L.A., St. Anthony's in New Jersey and the Dukes, Kentuckys, and Carolinas, as well as Lakers, Magic, Celtics, and even upstarts like Miami and Oklahoma City Thunder (OKC). OKC brings me to the point of this essay. The leader of the team, 22 year old Kevin Durant, hails from DC, which is a hotbed for basketball talent on all levels. And, while this is about basketball in general, I want to turn this essay into a primer and presentation on my hometown's contribution to the game of basketball.

Any writing of any kind for public or limited distribution should entertain, educate and be told by someone with enough knowledge of the subject matter. In my upcoming book, there are 8 sections and one is Education/History. I am telling this story to partially boast about my hometown and also to enlighten some who may not be aware of the TREMENDOUS contribution that has come from an area small relative to other areas, such as New York, Chicago, Los Angeles, and to a lesser extent, but coming on strong, places like Florida and Atlanta. All of the aforementioned places do well with producing basketball talent, but after reading this, I am sure that many eyes will be opened to my city and basketball. One may look at something like this and understand the title that has been put forth, "B-Ball On the Potomac – It MUST Be In The Water!"

It should be noted that DC was and is a southern town. Many urbane, sophisticated and, alright since I believe in self examination, I can say it, "bourgeoisie" Washingtonians think DC is northern, but, technically - by size, by geographic location, as well as the nature and origin of many of its inhabitants, we are southern. The city is small enough to have many of the great athletes to know each other after a certain age. And, it's big enough to have very respectable numbers, as far as the amount of players who are playing in or have played and starred on the collegiate and professional level. Many Washingtonians have enough style, grace and imagination to be basketball players and aficionados.

That brings me to another cultural lesson about basketball. Basketball is a graceful, fluid, artistic game. The purists invariably talk about playing the game "right". I suggest that the game should be played right, with a little bit of self expression. When it is talked about playing the game right, one is referring to clean, crisp and direct passes. They are talking about shooting only open jump-shots or not shooting jump shots when lay ups are available. They are talking about setting picks and when setting picks, doing pick and rolls, where a player can have a clear path to the basket. Playing right is without some of the fanciness and showmanship that actually accentuates the artistry that is basketball at its core. But, when the artistry is done within the flow of the game, like an ally-oop, or a great block off of the back board, which LeBron James seems to have mastered, basketball is one of the prettiest sports that one can imagine..

My guys from DC can do all of the aforementioned and have been doing so for as long as the game has been played. Basketball's REAL ascension can be taken back to the start of the NBA in the late 1940s. Yes, the game was played on other levels, but it started getting bigger and bigger as the NBA started sprouting. As with so many other things, basketball was off limits for people of color at the highest level and at this point, the mid to late 40s. However, talented African American B-Ballers pushed through, along with the acceptance of other things, like the falling of Jim Crow, people looking for good talent and some forward thinking coaches and owners willing to take a chance defying some cultural and societal norms. The first African Americans to play in the NBA was Earl Lloyd, who was from Alexandria, VA (again, by the Potomac), but played much of his early and later basketball on the playgrounds of Washington, DC. Some of those playgrounds included places around DC like Turkey Thicket, Fort Stevens (Luzon), Candy Cane City, and later University of Maryland, Hillcrest and Watts Branch in all parts of the city (see accompanying above).

Basketball for Washingtonians really spread it wings in the 60s, 70s, and 80s. In 1951, Archbishop Carroll High School (ACHS – my high school) opened its doors and was the first all integrated high school in Washington. By 1960, a team from ACHS won 55 straight games. The athletes came from all over the DC area. The coach was a long time basketball guy, Bob Dwyer, who had coached Warren Buffet in high school at Wilson High in NW DC. The '59/'60 Carroll team had a college president ("Monk" Malloy), a hall of fame coach (John Thompson), 3 or 4 college stand outs (Tom Hoover, Bill Barnes, George Leftwich), which included the current AD at Carroll (who was said to be the best [3 time all-city player and player of the year], but got hurt between his junior and senior years of college). And, even my high school pre-cal teacher (Barnes, one of the college stand outs at U of Detroit) was on that team. Later in the 60s saw Dave Bing develop, Austin Carr of Mackin High, and the 1965 DeMatha team beat a previously thought to be unbeatable Lew Alcindor (Kareem Jabbar) Power Memorial team from New York. As this was happening on the high school level in the 60s, DC born and bred pros from the 50s like Elgin Baylor were making their mark as more blacks played in the pros.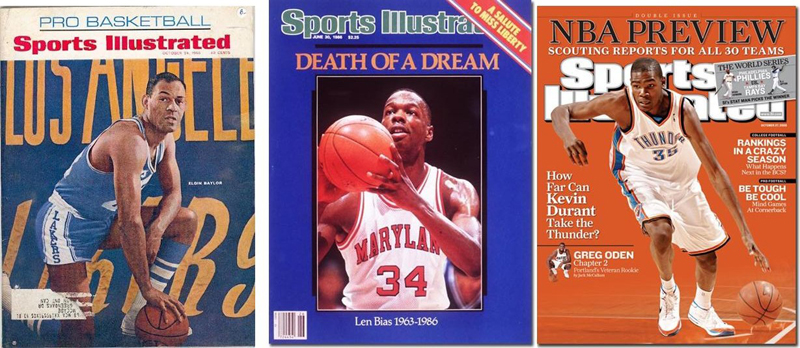 Past, Not Too Distant Past, Current DC Area Basketball Legends
Consensus players of the year (real or playground legendary) like Austin Carr ('71 college), Adrian Dantley ('76 college), Stacey Robinson ('75 high school…Notre Dame coach Digger Phelps once said, [regardless of eligibility] "Stacey is the best school boy in the country!") and later Johnnie Dawkins ('86 Naismith Award winner) in the mid 80s only drove home that if you want some good basketball players, you need not go much further than the playgrounds and gyms not too far from the Potomac River. The college basketball championships were won in 1983 and 1984 led by local DC talents Sidney Lowe, Derrek Wittenberg, Thurl Bailey, William Martin, and coached by John Thompson. Even 1988's college champions, the Kansas Jayhawks, had Milt Newton who was a product of Coolidge High School. And, in 1986, who could forget Len Bias? The second pick in the 1986 NBA draft died and his death shocked the basketball world, because it was said that he was AS GOOD as Michael Jordan.

The 90s and 2000s have seen much of the same or similar talent, games and players still coming to and going away from DC to add to the national basketball landscape. There are some shifts that require presenting, however. Some of the shifts include the fact that the talent and places that DC guys play is ever expanding. The earlier conversation was almost relegated to DC proper. With an expanding suburbs and ex-hurbs, players are from the heart of the inner city, as well as places like Hyattsville and Hillandale in Maryland, Reston and Burke in Virginia, and as far away as Baltimore, because all of those players know where the good games, good players and where they can establish a reputation. Some of the names still fill NBA and college rosters or are recent retirees. They include, but are certainly not limited to Grant Hill, Steve Francis, Allen Iverson, Joe Smith, Alonzo Mourning, and lesser known players, but contributors to rosters and the DC rep, no less, like Roy Hibbert, Delonte West, Jarrett Jack, Moochie Norris and two recent phenomenons, Michael Beasley and Kevin Durant, as earlier mentioned.

Throughout the years, the cultural, social, socio-economic times of the day were extremely relevant to how sports came to be for people of color in DC and many places, for that matter. They all tied together. In short, many of the athletes said to themselves and in effect anybody that would listen, "you deny us in life, we will excel in sports", which is one of purist forms of meritocracy that exists. A meritocracy is a system which promotes and allows for the best man or woman to win. There is no getting around who is faster, who can throw the farthest, jump the highest and win in basketball. In and around DC, our teams and individuals established themselves at home and when they have gone out to other places in, many times, disproportionate numbers. The facts speak for themselves.

As anyone should be able to detect, I know and love basketball, especially DC ball. It has been in my blood from a VERY early age. My brother was a standout at Ballou High School in Southeast and the playgrounds around DC. I was no slouch in my day. And, whenever I have not been playing, I love to take in the artistry, the rhythm, and the creativity that most basketball players and the games themselves have. Sure, you have your "brute" guys who play with little finesse, but that is the exception rather than the rule. To a large extent it cannot be explained, but when the basketballs rolling out or bouncing, think about the DC player and know that B-Ball is played and played well on or by the Potomac, so it MUST be in the water!