PG County Gets Respect, Parkdale Defeats John Thompson's St. Anthony Team which is Ranked #1 in the Nation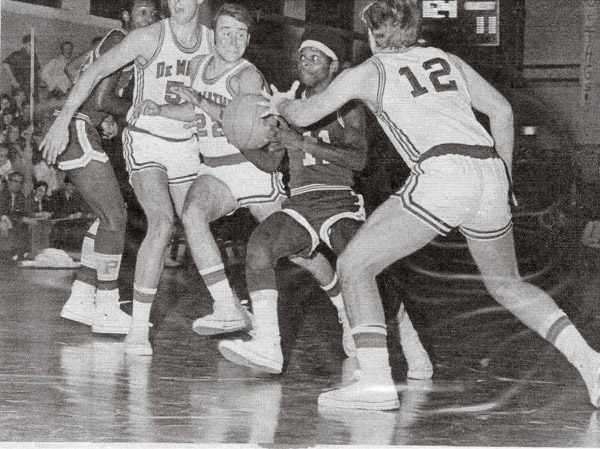 In the late 1960s to mid-'70s change was the only constant of which our nation and its citizens could depend. The historical riots throughout the United States, led by the cries, and opinions of people determined to be heard, while liberals and conservatives, black panthers, newly elected officials and parents held their breath in every community black, white or otherwise. There was no greater outcry heard than in our major cities of: Chicago, Baltimore, Washington DC, out of 110 cities these (3) three incurred the heaviest impact of violence, murder and destruction of property after the death of the world's greatest iconic civil rights leader Rev. Dr. Martin L. King, Jr. Both military and national guard were called in to calm the upset of the residence. I remember this day like it was yesterday, I walked to the corner to get chips and a honeybun but the store was boarded up. I can hear my mother screaming from the porch at me to get back in the yard.

"People, moving out, people moving in. Why because of the color their skin? Run, run, run, but you sure can't hide. An eye for eye, tooth for a tooth…Vote for me and I'll set you free. Rap on, brother, rap on…Segregation, determination, demonstration, integration, aggravation… humiliation, obligation to our nation. Ball of Confusion. Oh yeah, that's what the world is today; hey, hey." The Temptations

The riots of yesterday are still demanding the expectation of today, change. Be it controlled chaos, or deliberate advancement, it can be perceived as upsetting, unexpected and mostly unwarranted. But not to my mother it was during this time she uprooted her family and moved from west Baltimore back to Washington, DC, but this time not to southeast DC our place of origin, this choice move was to the suburbs of DC.(i.e., PG County) Couched in the still-fresh memory of 6,100 blacks arrested during the Districts historical civil unrest. She did what she always did; Joncier Greene made a decision to save her children—especially her precocious Pennington. Her providential (i.e., divine foresight) awareness, withdrew her eldest son from the mounting statistical data growing. Since 1970 the U.S. prison population has increased by 700 percent, 1 of 15 blacks are incarcerated. (Kerby, Sophia/The American Prospect). Mom knew I was most likely to get caught up in the momentum of the hood. Quick-witted, charming, outgoing and athletic, I was clever, but vulnerable, immature and ripe for the picking of the streets of B-more.

"Baltimore City, be more careful and be less pretty get caught slipping, damn that's a pity, be smart be cool when you are in Baltimore City. That's where I am from." Lord Baltimore

It was at Greenbelt Jr High, and Spring Hill Lake Apartments, the largest housing complex on the east coast in the '70s became our home. I sought to find balance in this fresh environment with its own brand of diversity, culture, faith and social diplomacy. I landed in PG County, unlike my former neighborhoods completely African American I was known for befriending people outside of my race. PG county opened my world to different lifestyles—peppered with a heightened swagger and personal expectations; I had to admit I was experiencing culture shock. I enjoyed people, but hanging out with other races, was not to be embraced by the status quo. In PG I swam in the pools, and the girls in my new hometown, provided the motivation to acquiesce (change) to their way of doing things. In the 8th grade I walked into a gymnasium filled with an energy I had never encountered in one place. A scheduled basketball game—gave way to supervised, mass enjoyable welcomed hysteria. I stood there a youngin', fresh meat and my light bulbs came on; a purposed reality hit me! If playing ball could do all of this, I was in. I began my strategy by joining Greenbelt youth league building my fundamental skills of dribbling, passing, mastering my shot and HEART,

"If you don't have heart, all the other means nothing. There is a level of passion that a true baller must embody and any individual for that matter, but especially in order to have a successful career in basketball." Penny Greene

On January 20, 1971 my 9th-grade year, I was fortunate enough to witness, another altering moment in history, Parkdale High School (Panthers) vs. Saint Anthony's High School (Tonies) coached by Hall of Famer coach John Thompson. Coach Thompson had no idea, that his top-seeded team, was about to get the big L After all the Tonies were on 18 game win streak. No one expected this kind of change. Nonetheless, the team comprised of Chink Gray, Jeff Briscoe, Doug Few, George Randall, Mickey Corbin, Gary Silver, and Coach Wolf whom replacing a sick coach Kernan left the crowd jaw dropped stunned, as Parkdale upset the Number One Team in the Country. The final score was 61-57. That Parkdale team went on to win a State Championship and finish as the #2 ranked team in the Metro area, that ranking was the highest-ranking any PG county public school had ever had.

Mickey Corbin X-Factor

The X-Factor in the game was a player named Mickey Corbin, Corbin was starting for the injured Doug Few. Mickey was a tough white boy from Greenbelt, MD. I knew him well because he ran things at the gym I played at the most, the Greenbelt Youth Center. The man was lightning quick with great hops and a deadly jumper. Most importantly, Mickey had the attitude, "there is no one on the planet that can check me." He was a Bad Bad man. He led the team in scoring that night with 18 points. He gave the number one team in the nation the business.

These young men weaved a basket of precision, anticipation, and gut-wrenching ride or die ball plays that are still being discussed to this day. The thing that no one knew is that Hall of Fame coach Stan Kernan had coached four of Parkdale players at Greenbelt Jr High school lead by the incomparable Chink Gray, that squad went 10-0 and won the championship, they had chemistry and history. These same guys were childhood friends who were more like family on the court; for Coach John Thompson hindsight is definitely 20/20.

Chink Gray, Unsung Hero

Chink was a 3-year starter and captain of the team; he stood strong in his 5'7" point guard frame, wearing a ball head, and his famous headband. He was the coach on the floor, controlling the tempo of the game—acutely aware of each player's skillset, teammate and opponent. His recall of how to run the ball game, made him dangerous at the top, the key or in the paint. The tech-savvy of today, i.e. watching tapes of previous games, clinics was not necessarily a part of the preparation. The neighborhood prepared you. You, prepared you, you ran in pick-up games, midnight games (when allowed) any time the ball was bouncing, and your parents weren't calling you in to be home before the street lights came on. In fact that's how I met Chink; my 10th grade year I desired to play ball in that awkward centered neighborhood near the train tracks called Lakeland. The other ballplayers taunted me. I have always worn difference, with distinction; it was just who I was, and who I am. Yet, Chink saw my potential and opened the door to my imminence. He encouraged my belief in myself as a young man, and nurtured my basketball skills and kept the haters off my back. Chink was always coaching, even when it went undetected. He made balling easy for his teammates like Magic Johnson; Chink was a floor general leading his troops into victory with lightning speed. And as all leaders, he worked the mind game as well; with silver tongue equal to the likes of Muhammad Ali. His opponents didn't know whether to focus on his mouth or his game. Chink had skills, hall of fame skills—he stayed ready. Life brings many changes; its inevitable truth. One of those truths was the fact that Chink was my mentor and friend, and now my brother Chink Gray is one of the great legends of Washington, DC Basketball.

"Life brings many changes, that no matter how we resist no one can stop change once it is in motion. Chink went from being my mentor and friend to becoming my brother and family". Penny Greene


Top-Ranked St Anthony's Upset 61-57
By Leonard Shapiro
Washington Post Staff Writer
Parkdale made 10 pressure free throws in the last quarter while harassing St. Anthony's into 25 percent shooting in the same period to defeat the top-ranked Tonies 61-57 last night at Parkdale. It was the Tonies' first loss in 18 games since 1969.
The Panthers outscored St. Anthony's 11-4, during a three-minute stretch in the last quarter. The winning basket came with 1:40 to go when St. Anthony's Merlin Wilson was called for goaltending on the Gary Silver layup to give Parkdale a 58-51
St Anthony's rallied to 58-57 with 13 seconds to play but Mickey Corbin hit a layup for Parkdale with four seconds to assure the panthers their eighth straight victory following two opening loses, one to the Tonies in their first game 52-50.
Corbin a last-minute replacement for the injured starter Doug Few, scored 18 points including four three throws in the last period. Jim Gray a 5 foot 7 guard had five free throws in the quarter and got the assist on the Sliver game-winning basket. Jeff Briscoe 6-6 senior had 12 points and 14 rebounds.