Collis Jones the Quiet Assassin
Washington Evening Star
Carl Sell
February 4, 1967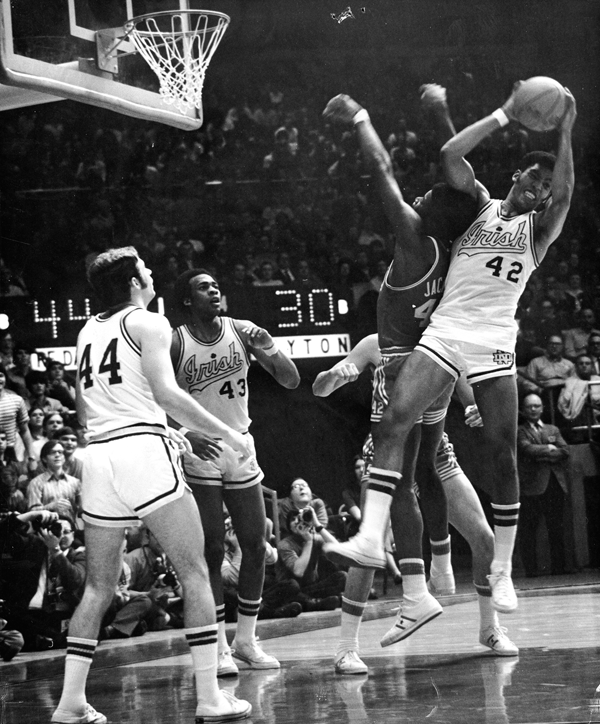 If you think back to the late 1960s, the trio of D. C. natives Collis Jones, Sid Catlett, and Austin Carr were all the rage on the hardwood for the University of Notre Dame Fighting Irish.  Carr got most of the ink, and deservedly so, for his record-setting career with the Fighting Irish.  But the slender, six-foot-seven Jones got his mentions, too, and ended up as the first-round pick of the world-champion Milwaukee Bucks (17th player selected) in the 1971 NBA draft.  That's when Jones unwittingly left his mark on the business of pro basketball.  With a good word from his trusted high school coach Joe Gallagher (St. John's), he hired as his agent former Washington tennis pro-turned-lawyer Donald Dell.  This marked Dell's entree into the multi-million-dollar world of pro basketball, and he would rise through the ranks in the 1980s to represent Michael Jordan.  But in 1971, Dell and Jones passed on the NBA Bucks in favor of what turned out to be four topsy-turvy seasons in the old American Basketball Association, or ABA.  Despite the roller-coaster ride in the pros, nobody ever had to worry about Collis Jones.  He was a great kid from a great family who, as the Washington Evening Star reported back in 1967, was destined to do well in life.
Jones Keeps St. John's Stands Filled
THERE'S AN OLD sports line about the player who does so many things for his team that he
even sells tickets.  Collis Jones of St. John's does just that.
Jones, the Cadet's 6-foot-6 center, stars on the court, but he also has an eye on the attendance.  Collis, who is second in command of one of St. John's cadet regiments, makes sure all of the boys under his command attend the games.
"I don't have as much time to check up on them during basketball season," Collis laughed. "But I do during the football season."
Joe Gallagher, the St. John's coach, thinks Jones is worth the price of admission by himself.  Collis doesn't think he has played up to par yet this season, but he's ready to break loose tonight and tomorrow.
ST. JOHN'S PLAYS LaSalle of New York at 7 o'clock tonight at Maryland's Cole Field House in the first game of a "double" double-header.  DeMatha meets Rice of New York in tonight's second game and the teams switch opponents for tomorrow's program.
Last year, St. John's gave Rice, the national Catholic champion, a battle before losing in the double-header program played for the M Club scholarship fund.  A victory by the Cadets would have taken some of the glamour off the Rice-DeMatha meeting on the second half of the program.
"We almost upset the applecart last year, and we're going to try even harder this time," Jones said.  "I hope I can play the best basketball of my career and we can win."
Jones will be up against LaSalle's 6-9 Tom Owens tonight.  Collis will have his hands full under the basket because LaSalle also boasts 6-7 Brian Mortiboys, 6-5 Jim Seflick, and 6-5 Gary Watson to help Owens on the backboards.
TOUGH COMPETITION is nothing new for Jones because St. John's habitually plays one of the toughest schedules in the area.  Collis also plays against some of the best collegiate and professional talent in the nation during the summer months. 
"I play playground basketball during my spare time in the summer and some of the opposition is awesome," Jones said.
Last summer, for example, Collis played with Dave Bing of the Detroit Pistons, Bernie Williams of LaSalle, Bill Gaskins of Utah, Carl Head of West Virginia, and Bob Whitmore of Notre Dame, to name a few.
"The other guys who played weren't bad either," Collis remembers.  "One day I saw a team which included Bing, Williams, Whitmore, and Head lose to a group of area high school boys."
JONES BEGAN playing basketball for St. Anthony's in the Catholic Youth Organization as an eighth grader.  He played on the St. John's freshman and junior varsity teams before moving up to varsity last season. 
"I have a long way to go in basketball," Jones said, "but I try to keep working at it."
"One of the best tips I ever picked up was from Bill Bradley, the ex-Princeton great," Jones said.  "He said that if you really want to learn how to shoot, tuck a basketball under your arm, go off by yourself and practice."
"He suggested you shoot one particular shot until you make it 50 times.  I did it last summer, and my outside shot is much better this year."
It's getting so that if Jones learns many more things about basketball, the opposition will have to go back to school.
February 4, 1967
Washington Evening Star
Carl Sell