Mickey Michaels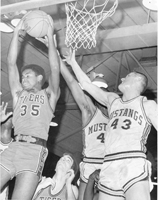 Mick Michaels, as local basketball fans know him, was a forward on Duval High School's 1969 and 1970 state finals basketball teams- the latter of which won the state. The '68-'70 period may have been the strongest in terms of talent, in area schoolboy history, given that Aubrey Nash, Steve Graham, Floyd Lewis, James Brown, Michael Jackson, Ronnie Hogue, Harold Fox, Jerry McDaniels, Randolph Campbell, Steve Hegans, Jim O'Brien- and many other noteworthy players were in school then. Mr. Michael was kind enough to share his recollections with us.

DCB: Who and where were your early basketball influences?

MM: I had an older cousin named Russell Williams, who had played high school football with (former NFL referee and Howard University Athletic Director) Leo Miles. He was a coach at Bell H.S. in D.C. He took me to city championship football games in 1959, '60 and '61, and to high school basketball games. He would point out players to watch, and why they were good. When I got older, I went to the M Club and Knights of Columbus Tournaments. I was able to pick up on the attributes that defined the most talented players- even if they only contributed eight or nine points in a particular game.

DCB: What local high school player that you have seen, impressed you the most?

MM: I was very impressed with James Brown, he was the best high school player I had seen, because of the way he played against the competition he faced. I saw him against the great Cardozo and McKinley Tech teams of the late 1960's, when he was a 10th ('66-'67), 11th and 12th grader. There wasn't anybody on that scale. Later I saw Adrian Dantley as a ninth grader- when I was in the 12th grade, and he was already good, but he wasn't the Adrian Dantley he would become by his senior year- I saw him play high school ball after I graduated. James was in a league of his own.

DCB: And who was the best schoolyard player you ever saw?

MM: Again, James Brown. When James Brown and Aubrey Nash were down at Watts Playground, Lasalle, Luzon, Turkey Thicket, or any of the big areas, people would hear about it, and my high school teammate Irv Copeland and I, who played all over the city, would go- to both get into the games, and to see them. James was The Man in the city at that time. He was dominant. Local basketball almost went through a rebuilding phase after he and his peers graduated.

DCB: And the best team you saw?

MM: McKinley Tech in the late '60's. We scrimmaged them my 11th grade year. I had been watching them for two or three years, and they came into our gym on a Thursday afternoon. They were like a professional team coming to play us. At first all I could do was stare. We stayed with them though- that was when we knew we were good. We were beating them with about four minutes left- their bench was going crazy, they may have taken us a little lightly. Then they turned it on, scoring about 24 points to our two, after we had them down by seven. But that showed us, it removed all doubt and fear- that we had really come into our own.

DCB: Tell us about the best ball handlers in the area.

MM: Alphonse Adair of Duval, and Kevin Tatum of McKinley. In the 11th grade, Adair transferred to Duval from Fairmont Heights- where they were packed with guards. The coach at Fairmont, Freeman, was a great coach, guys like "Fatty" Taylor had played there. After Adair joined us, that's when we started to come together. I pretty much acquiesced to the demands of the game situation. Tatum was a great floor general- he and Al (Adair) were both about 5'6". Once, at Glenarden Playground, I saw Al put a move on a guy, and they had to take that guy to the hospital, he broke his ankle. He could dribble facing you, switching hands, with the ball behind his body.

DCB:Did you ever play against Harold Fox (three-time All-Met at Northwestern H.S.)?

MM:Yes- in my 10th grade year. He would be the next best player under James Brown. He was like a guard from the future. He had jumping ability, quickness, he could shoot, he could dribble- he was a little ahead of his time. When we played them, once I got over the fact he was Harold Fox, everything was fine. He was the best guard I had seen. James was the best center. Another really good center was Shorty Simmons out of Gwynn Park.

DCB:Tell us about your junior high school days.

MM: I went to Kent JHS- the building is now the Prince George's County Police Headquarters in Palmer Park. I played there in ninth grade. Part of what helped my game develop was an older player, who played at Morgan State, named Howard Jackson, working with me. Guys would take me with them to Luzon (Fort Stevens Park), I'd get to see Austin Carr and players like that, and when I'd get on the court, I'd be frightened to death, but they'd tell me "Don't freeze up". Glenarden built these outdoor courts around 1967, where everybody played- Harold Fox, guys from D.C. There were two courts, and they were always packed. A lot of those guys in your (blog) Top 100 played there. Funny thing is we didn't get a lot of respect, being in Maryland, from either players or the media, but we had all moved there from D.C. Irv Copeland, the other forward on our state championship team, went to John Carroll JHS. Kent and John Carroll filtered into Duval. Irv started in the 10th grade. I played j.v., but I was averaging close to 40, and they put me on the varsity. We played and scrimmaged some Interhigh teams- most of the good ones except Eastern, whom I would have loved to have played (with Willie Daniels, Embee Shaw, Bruce Dyson, Stanley Parham).

DCB:What was your high school team like?

MM: We were a superfast-breaking team- there were not too many teams as fast as us- except DeMatha. After we made the state championship my junior year, we rested on our laurels a little bit. We were all juniors. In the semifinals we blew out a nationally-ranked team from Annapolis. In the final game we go and lose to Blair, which did not have a great record. We were just overconfident. The fans had these orange "We're Number One" Duval buttons, and I remember when we lost, about a dozen of those things came raining onto the Cole Field House floor. This was after getting standing ovations when we walked into Hot Shoppes' and stuff. And over the summer, other than Adair, we didn't really work on our games. Colleges were flying us here and there. But it's about lessons learned- in the opener the next season, Bethesda Chevy Chase- with the Graham brothers, beat us by about 30. We underestimated them- I knew who Spencer Graham was- we'd played together on a Maryland All-Star team with Jerry McDaniels (Fairmont Heights) and Ed Peterson (Springbrook). But we didn't really know about B-CC. That first game shocked us, and jump started us. You could tell teams in our league got up for us, but we'd beat most of them by 40 or 50, unless they slowed the game down. Our coach rested our starters about a third of the game- and Irv and I still averaged about 17 or 18 apiece as seniors. I was a shooter, 6'4", about 220. I scored when we needed it. We played St. Anthony's with Donald Washington- when John Thompson was coaching. That team mirrored his future Georgetown teams. They had the big guys in the middle, the guard controlling things, who was Jonathan Smith. I had a mild case of the flu in that game, and they beat us in the last minute.

DCB: The best high school coach of your era?

MM: Morgan Wootten. We played DeMatha in 1970- they had Ray Hite, an outstanding guard. They had good ballplayers, but not as good as we were, or I felt, four or five other teams in the area- like St. Anthony's, Eastern, Fairmont Heights and McKinley. But they came in with a game plan. What they lacked in talent, Wootten made up in coaching. They were fundamentally sound, and they were like a machine. We were only 17, 18 years old, but they outran us- tired us out. You could see the difference coaching and conditioning made. That team didn't have a Dantley or a James Brown, and we were leading them, but they beat us.
DCB:What was your greatest memory?

MM: I made a last second shot against Parkdale, to beat them, in our gym, and I almost had to get stitches after being mauled by fans when I was coming off the court. They had us down by about 17, and during the comeback, the place was going crazy. Al (Adair, the Duval playmaker) and I did an alley oop thing that turned the crowd out- you didn't see that play very often back then. There were maybe two or three seconds left, and our coach called a play for Irv (Copeland) in the corner. Bobby Stevens, our other guard, couldn't get to ball over to Irv, so he passed to me. It was about a 20-foot jump shot, and in went as as the horn was sounding. The crowd was almost maniacal, and just came at me. I ran as fast as I could- but the locker room was on the other side. They were so elated we had won the game- this was boys and girls. When I did get inside the locker room, there was blood all over the place, my arms and my neck.

DCB: Thank for taking the time to speak with us Mr. Michael.

MM: You're welcome.