Set Him Free! - The Jo Jo Hunter Story
By Ryan Thorburn 
The other end of the phone sounds clear, calm and a million miles away.

So what is Anthony Hunter's life like in prison?

His mind is still working and planning for a future on the outside, although the education in here is minimal. His body is still relatively strong and healthy, although the food is undesirable and the workout equipment doesn't exist.

And there is still some hope in that distant voice.  Although...

"You can deteriorate here in self pity," Hunter said during a rare break from his cell at the Medium Federal Correctional Complex in Petersburg, Va.
Twenty-eight years earlier, another life question — completely standard and innocent during the best of times in Boulder — was posed to Hunter after he arrived at the

University of Colorado. What do you want to do after graduating from CU?

With the spirit of an outgoing senior signing a high school yearbook, the big man on campus would scribble the answer down for an assistant sports information director who was putting together the Buffs' 1979-80 men's basketball media guide.

Hunter wrote: "Possibly play ball. Work. Live a good life. Have fun."

The Washington D.C. playground legend nicknamed "Jo Jo" — Hunter's game reminded some of legendary University of Kansas and Boston Celtics guard Jo Jo White — went on to a very brief stop with the Milwaukee Bucks before playing professional basketball in the Continental Basketball Association, Europe, South America and even the Middle East.

Hunter worked hard to make something out of himself after a tough childhood and had plenty of fun along the way. But has he led a good life since leaving CU without a degree?

That's a final chapter the now 50-year-old would like to re-write if and when he is released from prison.

As a basketball star at CU, Hunter wore jersey No. 35, but for the last 13 years he has been identified as inmate No. 09817-007 after convictions for conspiracy to commit armed robbery and money laundering.

"I hope I have a lot of years to go. I'd like to take my story and pass it on to a lot of kids that think about the NBA. There's more to life," Hunter said. "I had a promising life and I made some bad turns, but it's not over."

D.C. was 'buzzing'

Hunter was born on April 15, 1957, to Luther and Lorraine Raysor. While growing up in Washington D.C., his father was not a part of his life and his mother did the best she could.
"I stayed with my grandmother," Hunter said. "Fairly good home. I was around cousins and family members. Good family atmosphere. I went to good schools. ... Beautiful mother. She had 14 kids and everybody turned out to be productive parents and individuals."
As a child Hunter enjoyed baseball and boxing, but as he started to mature physically it was clear that basketball was the game for which he had a natural talent and passion.
Because it was a two-way sport," he explained. "Defensively you could stop someone and offensively you could prove a point."
Hunter proved he could score points. A lot of points.

After getting into some trouble during junior high school, a family friend who saw the potential in Hunter was able to help him get enrolled at Mackin High School, where he played for Harry Rest, a well-respected coach known for discipline.

"He kept everybody in school," Hunter said. "As a person he guided me in the right direction."

It wasn't long until Hunter was the talk of the town, averaging 28.6 points per game during his flashy prep career, highlighted by a 57-point performance.

"I played against him when I was a senior and he was a freshman. When I played against him I knew he was going to be a great player," recalled Denver Nuggets assistant coach and former NBA scoring champion Adrian Dantley, who played at rival DeMatha High School before earning All-American honors at Notre Dame. "D.C. is known for a lot of great basketball players and everybody knew about him.

"He had the town buzzing. Everyone wanted to see this freshman named Jo Jo Hunter."

That would include the 100 colleges and universities that recruited Hunter by the time he was a senior. But before choosing which scholarship offer to accept, the phenom flirted with a jump from high school to the ABA.

"I was 17 or 18 years old and with all the publicity I was ready to go," Hunter said. "Darryl Dawkins and Moses Malone went before me, but I would have been the first high school player to play in an ABA game. I don't know if I was ready mentally. ...

"I'm a humble person so I took most of the accolades in stride. I didn't think it was that big of a deal until now. I'm still playing in here now. And people's fathers and sons and cousins still remember seeing me play."
Big-time player at CU

Hunter decided to attend Maryland after Lefty Driesell convinced him that he would be the next John Lucas.

"But I was more of a scorer and John was more of a play-maker," Hunter said. "We had an abundance of great players on the team. I think Lefty was a great recruiter and a good coach. I also think he was a better coach when he had fewer players to play."

Hunter became frustrated with his minutes as Driesell rotated 10 players in and out of the lineup. After averaging 9.9 points during his freshman season (1976-77) and 11.1 points as a sophomore (1977-78), the young man decided to go west.

Jerry Tarkanian had told Hunter he could transfer to Nevada-Las Vegas. He went out to Sin City and worked at the Flamingo during the summer, but the promise of a scholarship was not kept.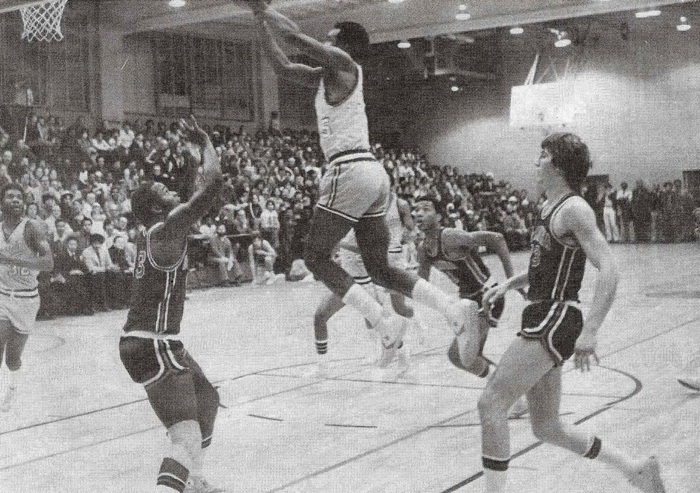 The next stop was Boulder. CU head coach Bill Blair sold Hunter on the idea of creating a basketball buzz at the football school.

"I really enjoyed the school and I thought it was breathtaking coming from Denver to Boulder," Hunter said. "If I had to do it all over again, I'd do it there for four years."
The game was seemingly never over during the Buffs' 1979-80 season. At least not until Hunter had a say in the outcome.

After sitting out a year per NCAA transfer rules, Hunter helped raise the curtain on the new $7.7 million Events Center (now called the Coors Events Center) in style by leading CU with 14.9 points per game while shooting 50.5 percent from the floor and 85.6 percent from the line.

Hunter averaged 17.3 points per game in Big Eight play and lifted the team to some huge conference wins:
His driving basket with five seconds left beat Oklahoma, 65-64.

His 35-foot shot at the buzzer gave the Buffs a rare victory over Oklahoma State in Stillwater.

His 22 points in second half lifted CU to a 78-68 victory over Iowa State. He was 16-for-16 from the line in the contest.
He had 28 points in a rare win for the Buffs in Norman for a sweep of the Sooners.

He poured in 27 points in the first 28 minutes of a 56-55 win at Nebraska.

"Coming out of high school he was probably one of the top 10 players in the country," said Alvin Gentry, now a Phoenix Suns assistant who at the time was a bright young assistant to Blair at CU. "He hit some big shots for us. He was just a terrific player."

After a 62-59 victory in Lincoln during Hunter's senior season, a game in which he was 13-for-18 from the field, Nebraska coach Moe Iba admitted that "he's tough for us to handle."

Following the 1980-81 season, Hunter was selected to UPI's first-team All-Big Eight squad and he finished 29th on CU's all-time scoring list (922 points), despite playing in only 54 games.

Kansas State's Rolando Blackman, who went on to have an impressive NBA career with the Dallas Mavericks, was considered to be the league's best player during that era.
"I'll put him up against Rolando any day," Blair said of Hunter.

'He was a guy who had me in awe'

As Hunter's collegiate career was coming to a close, the next CU basketball star was arriving on campus. Gentry had lured a promising recruit named Jay Humphries to Boulder to finish what "Jo Jo" had started.

"Anthony? I don't know Anthony Hunter," Humphries said recently after a reporter mentions the name.
How about Jo Jo Hunter?

"Oh yeah, I know Jo Jo. He was a guy who had me in awe," Humphries continued. "When he rose up to shoot his jumper he was a happy guy. ...
"In practice every day he was a player who was strong in the gym. We went at each other and that made me a better player because he was so good and I didn't back down."

Humphries was able to live his hoops dreams with an 11-year NBA career. This summer he was reunited with Gentry after getting hired to join him on the Suns bench as an assistant coach.

Dantley had his jersey retired by the Utah Jazz last season and is being groomed by Nuggets head coach George Karl to perhaps become an NBA head coach someday.
All three men said the exact same thing when initially asked about Hunter — "I've lost track of him."
Hunter, who entered the prison system in his late 30s, has lost his mother (died in 2000) and father (died 2004) during his incarceration. Knowing that he still has Antwone an 18-year-old son, out there helps keep that hope in his distant voice, although he has not seen his flesh and blood in 13 years.

Seeing other young men wasting away behind bars fuels Hunter's passion to get out and make a difference in the final chapter of his life.

"I want to get the message out that prison is not cool and it's not what they think it is," Hunter said. "Even though this is a place of indignity and no integrity or compassion and it's about survival, there is a lot of talent in here. There are a lot of kids in here. It's a shame they have to come here to find out their talents. ...

"I just have to survive in here. I think my niche when I get out is to pass my experiences on to other kids. This is a revolving door that someone or somebody needs to address."

Hunter, who worked as a paralegal after his professional basketball career before going down the wrong path, doesn't pretend to be innocent.
"I think God is in agreement with the situation," he said. "Because I've grown in other ways."

However, Hunter does believe that the judge in his case made an example out of him because he was a gifted local athlete who threw a promising life away by hanging out with the wrong crowd. He said he expects to have a parole hearing in 2011; the prison system Web site lists his release date as June 16, 2044.

"I always think that there is a second chance for people. But no one is just going to give it to you just because you say you want to do the right things," Humphries said when asked if the basketball world would embrace Hunter should he be set free. "First you have to do what you say. If he's sincere and it's in his heart, I think people will give him a second chance."

The great debate right now on sports-talk radio programs from coast-to-coast is whether or not Atlanta Falcons superstar Michael Vick — who is said to be ready to accept a plea agreement for his role in a gruesome dogfighting ring — will be given a second chance in the NFL after serving time in federal prison.
"If you look at professional sports now, even though they're getting all this money, they're still making bad choices," Hunter said. "Even if you make it you still have to live a righteous life."


Dc Basketball Institute
I spoke with Jo a couple of weeks ago and he will be going in front of the parole board in December. Character letters are needed ASAP, this is a crucial time. Jo would like to thank everyone that can find time to sit down and write a letter on his behalf. The letter needs to be addressed to Isaac Fullwood of the parole board; you should also send a copy to Jo Jo. The addresses are below:
Us Parole Commission
555 Friendship Blvd.
Suite 420
Chevy Chase Maryland 20815
Attn: Mr. Isacc Fullwood
Send Copy to:
Anthony Hunter
Reg # 09817-007
FCI Cumberland
P.O. Box 1000
Cumberland Maryland 21501