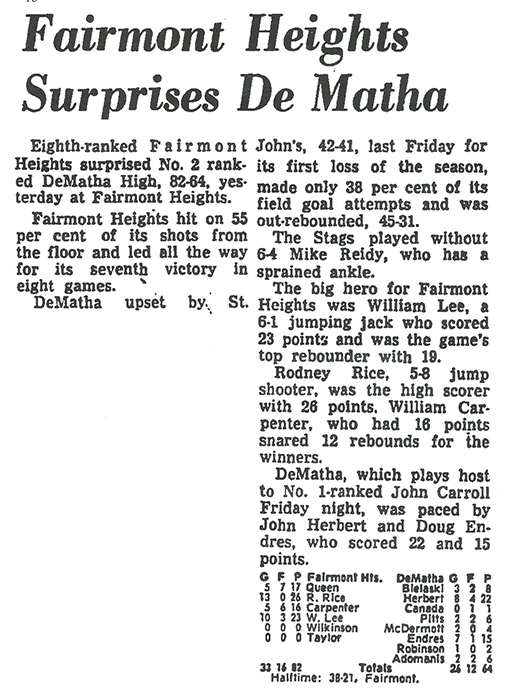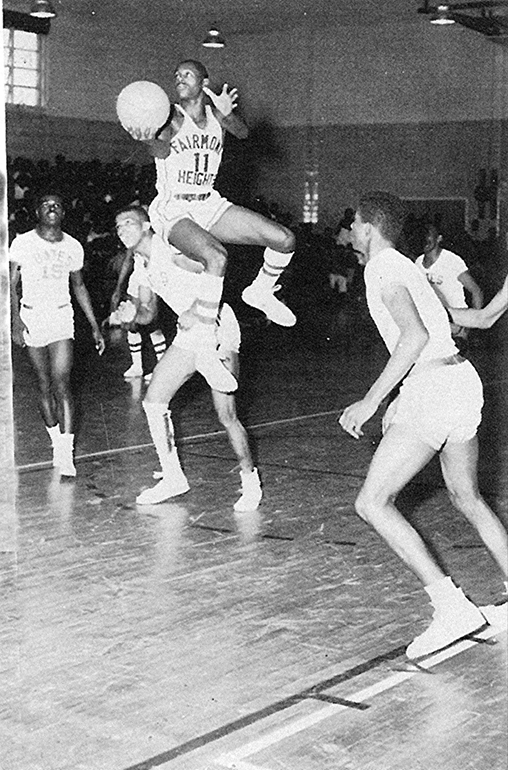 A Man Called Chicken Breast
written By Ed Silvera
When you talk to those who know the storied history of the playgrounds and high school gymnasiums of the DMV, one name invariably will come up, and that name is William "Chicken Breast" Lee. His name and story is one that echoes off the walls of Fairmont High School, as well as the hallowed asphalt of a New York Avenue playground with the frequency of a humming bird's flapping wings or with the ease of a sled speeding down a snow covered hill. Chicken Breast's game was tight and right. It was the quintessence of DC Basketball.
Mr. Lee passed away early this month January 2017, and in his wake he left a legendary legacy. Born in 1940's in the Northwest part of the city, he holds a beloved name in DC Basketball history and will be remembered for his prowess on the court…and his humility off the court.
I guess we should start with his nickname, Chicken Breast. He wasn't, as one might suspect, given that name because he frequented Kentucky Fried Chicken. No, he was just a youngster when an old lady in the hood dubbed him Chicken Breast because when he walked he did so with his chest poked out. It preceded the rest of his body. Perhaps it was an indication of the proud man he would become. It was a prideful name that remained with him throughout his life, and that pride was exhibited most on the court.
He was a wide-eyed kid back in the 60's watching the older guys hoop from the sideline. Eventually, whenever they were short a man, he would virtually get picked from the crowd to fill the vacant spot. This resulted in going home with a busted lip on more than one occasion. However, he was learning the hard way. It was basketball boot camp. The lessons he learned there gave birth to a ferocious playing style, sweetened with smooth athletic moves and an enormously profound jumping ability. More on the matter of his jumping ability a little later.
He began playing organized ball while at Shaw Junior High School. Then, he went to Fairmont Heights High School where Head Coach Ken Freeman had been winning consecutive back to back black state championships, Coach Freeman had created a winning tradition with a (loose fast pace playing style and a nasty triangle zone defense) His running partners at Fairmont Heights were Rodney Rice, Arthur Queen & William Carpenter. At Fairmont he played and further learned the science of the game, Chicken Breast was a fast learner and boy did he learn well.
While there he led the team to state championships for two consecutive years and two consecutive #4 rankings in the Washington Post Top 10 rankings. He was a standout player who was recognized as such by the media that covered high school basketball at the time, He was a two time all county player and an All- Met selection his soph. year. To be named to the All-Met team was an big honor and a confirmation that you are one of the best high school ballers in the DMV and the country. He only played his 9th and 10th grade years.
Amongst many other hoop talents, he had the ability to snatch jump shots out of the air. He would gauge your shot and attack it before it reached the top of its arch. It is said that he would grab your shot out of the air, look at you and say, unabashedly in your face, "I decide who scores today."
That is exemplary of the confident attitude and swag that is essential in the DC game. He says, "You have to bring your 'A' game every day." The only other option was to sit and watch (quietly) from the bleachers. Period.
Being an All-Met player meant that you were likely to have an opportunity to sift through numerous college scholarship offers. To be named All Met while only a sophomore was super special. It was an indication that the following two years of high school were going to be an extraordinary time in your life.
However, this was not the case for Chicken Breast. His parents forced him to make a decision after his sophomore year. Having impregnated a young lady, they told him he had to work and take care his baby. There was no wiggle room here. Even though Coach Freemen said he had a draw full of scholarship offers, his high school playing days were cut short.
Yet, the desire to play basketball lived on. He was able to play with the best semi-pro team in the area , Stonewall A.C. with Dickie Wells, Terry Hatchett and Willie Jones. They would travel throughout the northeast and south to North Carolina. Of course, he brought his fierce style of play to his barn storming team and he became a highly favored player.
Now, back to his aforementioned jumping ability. It has been said that Chicken Breast could leap up and take a quarter off the top of the backboard. That's quite a feat for any human being to achieve. When asked about this Mr. Lee said chuckling, "You know how things go around." He said it was actually a towel on a beam at the back of a moon backboard. It would be a little more than halfway from the top of the square to the to the top of the backboard. So, the myth of grabbing a quarter off the backboard is indeed just that, a myth. Even still, that's quite a vertical for someone that is about 6'- 2".
It was indeed a pleasure to track down and talk to the man behind the legend of Chicken Breast. When I talked to him on the phone from his home his mind was clear and full of the wisdom that can be drawn from sports, in this case the basketball court. He said of his playing ability that he just loved to play basketball and as for all the accolades; that is what other people say. He said, "I can't see myself play. That's what other people see and say. So, if that's what they say, I guess all that you've heard about me is true."
The noise level at a high school basketball game in the DMV or on a DC playground at tournament time is very loud. So we asked him how he handled being surrounded by loud noise he said I became part of the noise . He was quick to answer, the noise was there but "I didn't hear the noise, because I was in tune with it." In other words he was aware of it, but his total focus remained glued to what he needed to do on the court—the task at hand.
But isn't that the mantra of every great athlete. They are able to get in a zone that is reserved for an elite few. There, they are in control of their game and are deeply cocooned in the love that radiates every day from flawless execution.
Who knows how far he would have gone had he stayed in high school, went to college and perhaps the pros. But he left us with something just as valuable. An example of how glorious DC Basketball is, the richness of its history and legacy. And as for grabbing a quarter off the backboard, go ahead; tell that story to your children so they can tell it to their children, and so on. Let the myth live on in honor of William "Chicken Breast" Lee. Let it continue to hold people in awe and respect for one of DC Basketball's finest. It's the stuff that dreams are made of.
Click here
to hear the full phone interview with Mr. Lee.