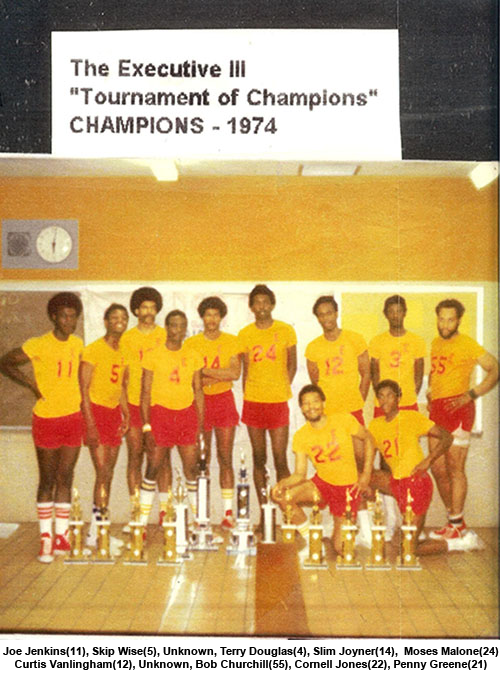 Summertime Basketball
It's late in the day and I aint been on the court yet,
Hustle to the mall to get me a short set.
Yeah I got on sneaks, but I need a new pair, cause basketball courts got girls there. 
Summertime, Will Smith
If you're a serious hoopster then you know summertime is time to fine tune your game. It is the season when the youth of inner city and suburbs join summer league teams, i.e. AAU team or invest time at the local YMCA or Boys and Girls Club. The 'old neighbor hood heads' and NBA stars volunteer to mentor the youth. Why, because your game is your signature; your connection to all things dreamed and hoped for. And for these pros, a time to give back. The fascinating thing about summer basketball is that as the temperature rises, so does the innate anticipation of street ballers—these fellas (and ladies) take their game to new heights with artistic charismatic beauty couched in sneakers, shorts and sweats.
As the summer heat rises--hotter than July, playgrounds provide the back drop for jaw dropping dunks, freak moves and nicknames never forgotten. On-lookers from kids riding their bikes through the middle of the court during the games to adults looking through the fence—these spectators are waiting for that cross over or unforgettable dunk that will make peeps run out the park and down the street.  These post season players work the crowd with creativity not often expressed or allowed in the NBA or WNBA.
The rivalry of 'hood' ball has a way of revealing ones strengths and weaknesses; if you need tightening up its going to show. The Goodman League is D.C.'s –NYC 's Rucker and where they play just as hard, if not harder—while New Yorkers are known for their flamboyant precision and entertainment value, D.C. has produced an assembly line of great scorers. DC provides 'wet buckets' for America. Proof positive Elgin Baylor averaged 27.4 for his career, Dave Bing was first guard to lead NBA in scoring, Adrian Dantley was NBA two time scoring champion, Kevin Durant led the NBA in scoring four times—All NBA legends from the DMV that fine tuned their skills in the summer.
Still, the Goodman League named after the late George Goodman a Barry Farms resident (thegoodmanleaguelive.com)—demands a respect in southeast D.C. that even gangbangers honor. It is an unspoken word. An unequivocal truce; shut the noise down kind of truce, no drama from opponent or brothers for a summer of pit bulls barking, Go-Go music blasting, folks grilling, thrilling b-ballin' on the asphalt.  And it's all official, no cutting corners—registration of teams, schedules, coaches, trophies. It's the summertime in the 'hood' where well developed sub-cultures not only survive, but thrive and become noteworthy.  The vehicle of basketball assures that legends will be made and  their memories never forgotten. Play hard or go home is the standard, this it not the place for the faint of heart, this game is for the very serious; solider, so please bring you're A game.
Jelleff League Blast from Past 1965
Dematha Reign Ends Amid Summer Heat /
By Jim McCannon Washington Post staff writer
Basketball always is in season in the Metropolitan area. That's one reason this hot bed has produced an abundance of outstanding basketball talent.
The recently completed summer league at the Jelleff Branch Boy's Club produced some bright prospects, some of whom are destined to be the Fred Hetzel and Dave Bing of the near future.
The summer league resembled a workshop for All- Metropolitans. Five nights a week players with undisputed ability such as Tom Little and Austin Carr of Mackin, Mickey Wiles and Sid Catlett of DeMatha, John Hummer of Washington Lee, Ed Epps of Cardozo and Will Hetzel of Landon showed their credentials.
To the surprise of Mackin and Dematha, which won the summer title four successive years, the Landon All-Stars swept through the regular season undefeated in 10 games.
The All-Stars were potpourri of  Interhigh players from Cardozo, Western and Eastern, plus Landon school.
One standout of this homogeneous unit was the quiet gangling 6foot4 Louie West, of Eastern."Leapin Louie" as West became known to the hundreds of fans who crowed in and around the Wisconsin Ave. playground to watch was the darling of the spectators.
"West was an inspiration to us" Will Hetzel, 6foot 6 organizer of the All-Stars revealed.
"We pointed for the big game with Dematha and in that one he was simply amazing. 'He's shorter than I but jumped as if he were 10 feet tall'.
Hetzel's idea was to bring together the best players in the city to offset the strong Catholic League. "And we did, too" he boasted.
"Mr. Bolden (Frank, former Cardozo coach) is the greatest. He handled us perfectly and blended all of the diverse styles of play. This experience will profit all of us , Hetzel said.
Despite their apparent invincibility, the All-Stars did not ride the wave to a perfect ending.
The All-Stars ousted Washington-Lee in the semifinals, but lost the title to Mackin, 83-73.
"We were beaten by superior shooting" Hetzel explained."When Carr and Little are hot, nothing seems to stop them. It's been a long  HOT SUMMER, but I'd be willing to do it all over again "he signed.